Do you want your workplace or other property to be as clean as possible? Did you type "professional disinfectant service near me" into a search engine yet weren't terribly pleased with what came up? If there's one thing we've all learned over the last couple of years, it's just how important a clean workplace can be. "Clean," of course, means more than just picking items off of the floor, vacuuming, and so forth. It means disinfection, too. Specifically: professional disinfection, the kind that keeps the workplace not just clean but safe as well. That's what we provide here at Scope Environmental. 
Better Sanitation = Better Workplace 
Disinfectant services may have seemed in the past, for some business owners, to be unnecessary. "I get my office cleaned," they may have thought, "do I really need to disinfect it, too?" The answer over the last few years has been a resounding "yes." While the pandemic is less of a concern for many, the truth is that pathogens can be a concern in practically any workplace. Sure, they may not lead to lasting hospital stays or the like, but they can make people sick. They can keep them from working or even working to their full potential. 
Disinfection, when done right, can do something about that. Many of the pathogens that could potentially harm workers hide in the areas that a typical cleaning service doesn't necessarily get to: inside AC grates, and the like. Our disinfection can take care of all of those concerns and more. That way, you and your employees can have the peace of mind that comes from knowing that your workplace is exactly as it should be. 
Improve Productivity While Saving Time 
The cleaner your place is, the more likely your employees are going to want to work there, to want to be there. Moreover, here at Scope, we can work around your schedule. See, our services are available at any time. Thus, we can work around you. Many of our clients, for example, have customers, workers, clients, and the like, going through their workplaces throughout the day. Thus, if possible, they'd prefer the disinfectant company comes at another time. 
So, we can work nights, we can work at other "low" hours. That way, you can be as productive as possible while getting the best possible disinfection services, too. 
A Workplace People Want to Go to
Speaking of customers and clients, your workplace is, for so many companies, that which makes a first impression. If someone walks into your workplace and it's anything less than spotless, whether they're a potential customer, client, investor, or anything similar, the odds that they're going to want to do business with you are lower than they would have been otherwise. Really, when you're getting your place disinfected by the pros, you're protecting your investment. 
On that same topic, our disinfection services can help to lower your carbon footprint, too. You won't just be doing something for your workplace; you'll be doing it for the environment as well. 
The Right "Professional Disinfectant Service Near Me" 
It's entirely possible that you may have thought: "do I really need to bring in the pros to do the disinfecting? I have a staff, I know some people. Can't they do it?" Yes, there are some over the counter disinfection items they could use. However, those just flat out aren't going to be as effective as the equipment we use. Here at Scope, we only use the very best disinfection technology for our clients. This is the kind of stuff that you just aren't going to be able to find in any store. 
Moreover, it's not just that we have the machinery, it's that our professionals know how to use it. We've been doing this for a long time. Each of our workers are trained on these machines, they know how to use them right. Indeed, before we ever send anyone to your workplace, we make certain they can utilize these machines in a proper fashion. Thus, you get professional work with the most cutting-edge tech from a true expert.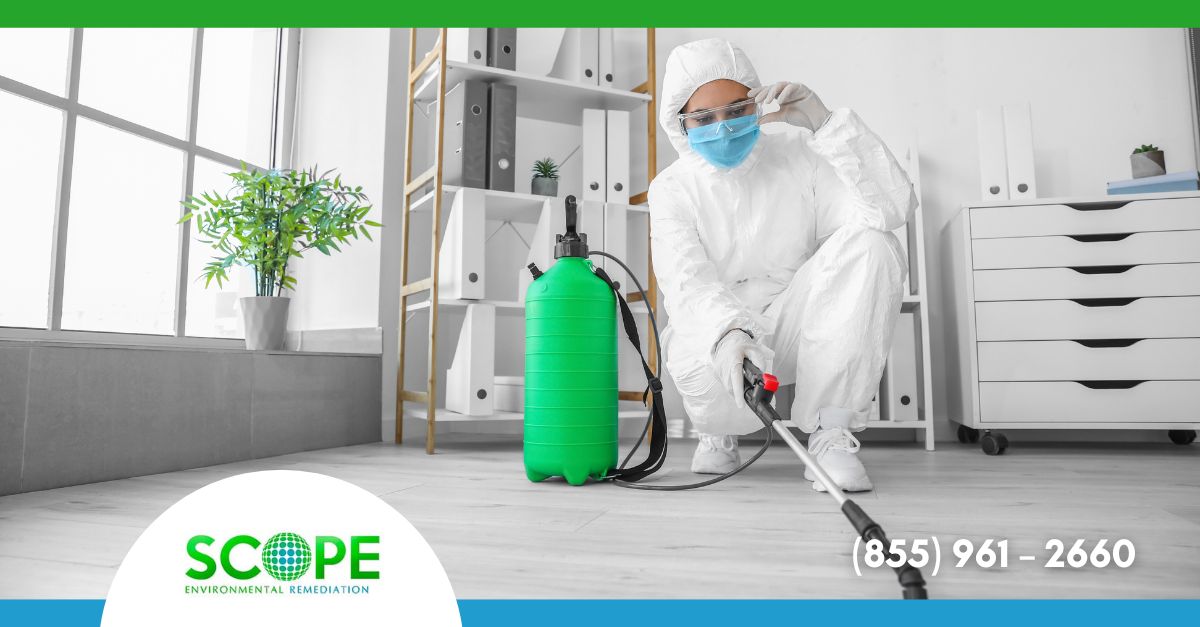 Here When You Need It 
Disinfection is one of our specialties but it's far from all that we offer. Indeed, we also can provide restoration from water and fire damage, mold remediation, and much more. Live operators are available 24/7, so we're here when you need our help. We can come to you and perform a thorough investigation. That way, we can determine exactly what your problems are as well as how we can provide solutions quickly. 
If you've been looking for professional disinfectant services, look no further. You can reach us at (865) 961 2660 for first-hand disinfection services.