Your home is your sanctuary. It is also one of your biggest investments in life. What if it is suddenly destroyed by fire? It is one of the many nightmares of homeowners. But you can bounce back and get back on your feet by hiring a fire damage restoration service. 
In the US, more than 300,000 residential fires occur. No matter how high-tech the smoke detectors are, residential fires are still on the rise. What's more sickening is that fire damage can cause a financial burden.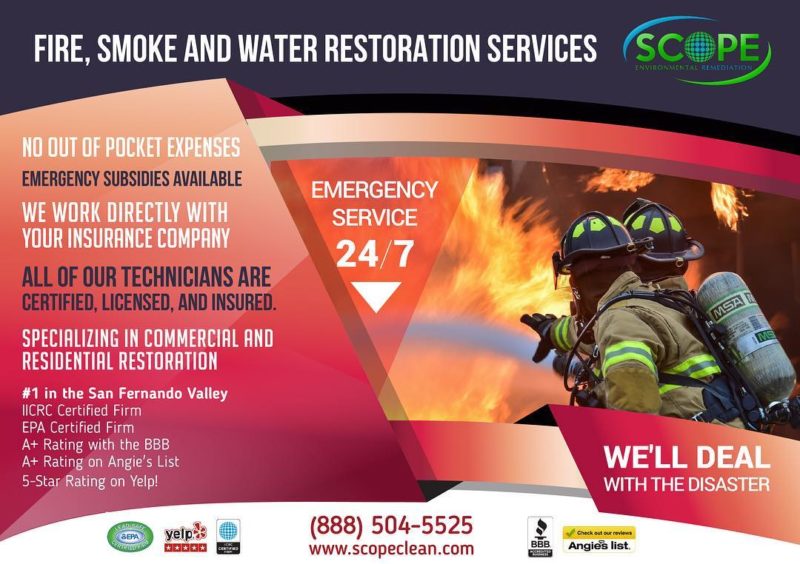 How
Fire Damage
Restoration Services Can Help? 
At Scope Environmental Remediation, we aim to help you transform your house into a home again after this disaster. After a fire, you might not know what to do and which step to take to get your life back. Call our fire restoration specialist and we can step in. 
The first thing we are going to do is assess your house and detect the issues before we can implement solutions to those problems. 
Then, we handle fire and smoke damage. Smoke can easily get in the air. It can linger for a while. We have the appropriate equipment to eliminate any foul-smelling odors that may affect your lungs. 
We also extract water from your house. Water damage might not be on your mind after fire damage. However, it can lead to a huge issue. Keep in mind that the firefighters use gallons of water to stop the fire. And that will likely cause standing water. 
When that happens, we will remove the water first and use treatment options that can dry out furniture and wood to reduce warping. 
We also find soot and remove it from your house. It is a byproduct of fire that you can find in the walls and the HVAC system. It is highly flammable so we need to eliminate it first. 
Restore House Immediately 
When your house is damaged by fire, you should act immediately to mitigate the damage. The first thing you need to contact is a fire restoration service, like Scope Environmental Remediation. The longer you allow your house to sit in soot and water damage, the more damage it will sustain. 
You must start the restoration right away. Speak to our specialist today so we can assess the damage to your house and we can develop a customized action plan. Once you give us a go signal, we will dispatch our team to your house and evaluate the damage. 
After the evaluation, we will give you our customized plan so we can start cleaning up. We will only start the restoration process when you agree with the plan. 
Our team will not force you to agree or sign a contract. If you do not like our plan and seek a second opinion, then that's okay with us. 
You can call us again if you are ready to hire us to perform the fire damage restoration process. 
But we urge you not to wait for a lot longer before you decide to hire a specialist. Whether you hire us or call another specialist, you need to do it ASAP. 
Should you decide to use our fire damage restoration service, give us a call at (888) 504 – 5525.