Damage caused by smoke is notorious for being one of the most challenging forms of damage to repair. Not only will the smoke leave behind an unpleasant stench, but it also has the potential to damage your property, making it expensive to do a smoke damage restoration. If your house has been damaged by smoke, you must be aware of how to repair it in a way that is both safe and efficient. 
In today's article, we'll go over some of the fundamentals of smoke damage repair and advise on how to get your house back in order after a fire. In addition, we will highlight some of the most effective treatments and tools for restoring smoke damage. Damage caused by smoke may be a great pain to deal with, but there are methods to restore your property to the splendor it once had. Here are a few examples of them:
Remove The Smoke Smell from Furniture and Fabric by Using an Absorbent Like Baking Soda or Charcoal Ash. 
A fire's aftermath is the most challenging because of all the smoke damage you must clean up. Stains and scents left behind by smoking may be challenging to recognize and much more difficult to remove. Baking soda or charcoal ash is an excellent adsorbent for removing smoke odors from furniture and fabrics. If you don't use any potentially toxic chemicals, you'll save time and effort cleaning up afterwards. 
Ensure to wait a few hours before vacuuming up any remaining debris after you've applied an absorbent. The item should be taken outside and sprayed with a hose for about 20 minutes straight if the smell persists after cleaning up everything you can see. To eliminate any remaining odors, you can either throw out the item that emits the odor or have it cleaned by a professional. Wipe clean smoke-damaged walls with warm water and detergent-free dishwashing solutions to remove the damage. To remove any lingering smells, spray them with lemon juice and wipe them down.
Clean Walls and Ceilings with A Mixture of Dish Soap and Water
The damage from fire and smoke from your walls, ceiling, and floors may be significant. The first thing you need to do to restore these surfaces is to clean them up as thoroughly as you can. There is no need to worry about tearing the paper on the walls since you will be painting over it anyhow. Use a sponge to remove any stains or spots left behind by the smoke, which may be done by combining dish soap and water in an equal ratio, and then wiping the area off. Instead of using water to wash the walls in your home made out of wood or another material that cannot be scraped with water, you should use soap instead. You may need to scrub your walls to remove the material off of them, but you shouldn't use too much pressure, or you may end up damaging the surface below.
Wash All Dishes and Utensils That Were Exposed to The Smoke
One of the most common reactions to smoke damage is a sense of helplessness and hopelessness. Apart from removing damaged furniture and repairing soot-stained carpets, there are other less evident jobs such as washing any exposed dishes and utensils and cleaning any walls that may have been contaminated by smoke particles that need to be addressed. Smoke residue may be easier to remove from containers if you soak them before washing them. 
After being exposed to smoke, clothing should be laundered. Soak yellowed clothing or drapes in vinegar for 30 minutes to remove the stains caused by smoke exposure. To get rid of any leftover stench, wash them with a bleach-free detergent. To remove yellowing off furniture, combine 1 quart of 3 percent hydrogen peroxide with 1/2 cup baking soda and enough water to produce a paste. Ten minutes after applying the paste to the furniture, rinse it off with water.
For The Smoke Damage Restoration, Vacuum Daily and Shampoo Carpets as Often as Possible
If you have carpets or rugs in your house, these items must also be taken care of. If they can only be cleaned in a dry cleaner, then you should inquire with the dry cleaner closest to your home to see if they provide this service so that you don't have to travel anywhere else. If your local establishment cannot clean these objects, you may want to try looking for a website online that specializes in cleaning items of this kind. You can do this by searching the internet. 
They can guide the most effective methods for cleaning the various materials. However, to properly restore your home's carpets and upholstered items, you will need to hire a professional service provider specializing in smoke damage restoration. The last thing you want is for the issue (soot) that caused the fire in the first place to generate further difficulties.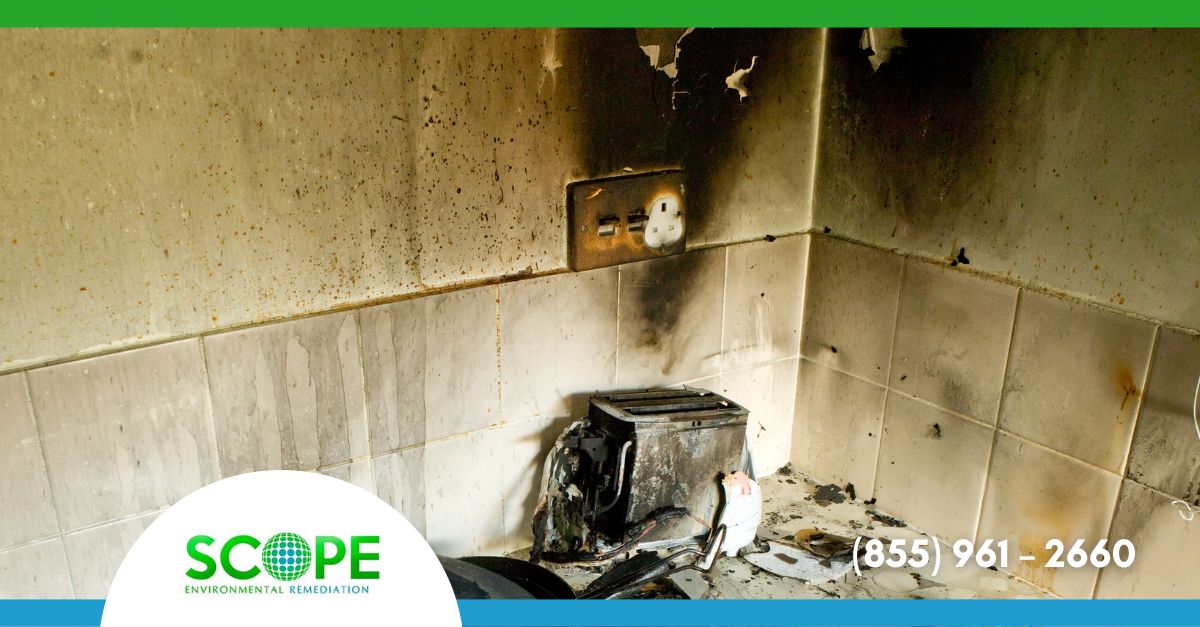 Replace Filters on Air Conditioners and Heating Systems Regularly During the Restoration Process.
You'll save time and money in the long term by keeping your heating and cooling system in good working order. During the restoration process, replace the filters every three months. As a result, you won't have to worry about smoke particles getting into your ventilation system and causing harm. You'll live in a construction zone for a while, so be patient. Fortunately, employing a professional to repair smoke damage can help you reduce your expenditures. In order to restore your property to its former splendor, you'll want to hire a restoration company with experience.
Scope Environmental also knows how to deal with residential and commercial properties – from your small apartment or condo unit to a multi-story building used for business purposes. If you want your property restored adequately and quickly, contact Scope Environmental at (855) 961 – 2660 today!