Our water damage restoration services at Scope Environmental Restoration will act quickly in order to prevent any further damage to your house that might ensue after pipes burs .
We say that because waiting before you call a professional can potentially cause severe water damage to your property. This may turn into mold growth, for mold can start to grow within 24 hours after a water loss. 
At Scope Environmental Restoration, we take pride in our rapid response time, for we will be there within an hour from dispatch. We understand time is of the essence, for it is vital to make sure that the damage will not become worse. 
Our team has extensive experience in reducing damage to your home and keeping it from getting worse following a water loss or pipes burst. Whenever such misfortune strikes, homeowners often have to deal with costly repairs to their property. We want to avoid such a case scenario and prevent any expensive damage.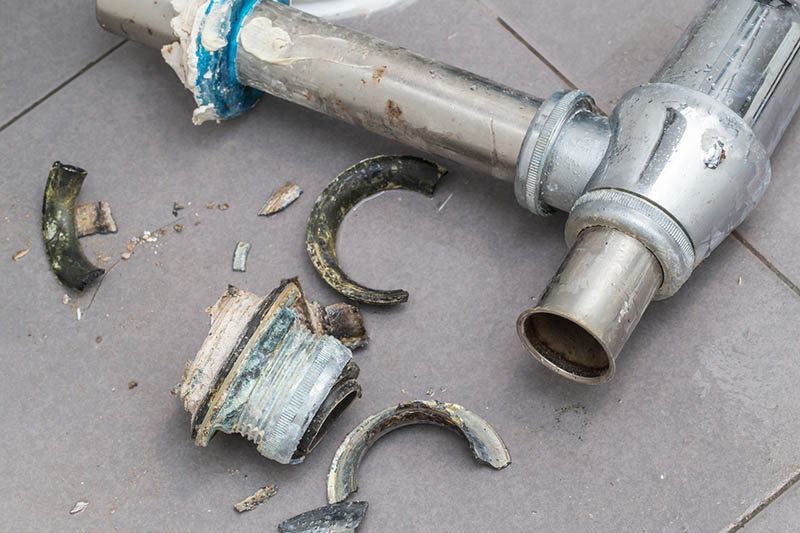 What Should You Do When a Pipe in Your House Burst? 
The first step you should take is to call a licensed, certified restoration company that has the necessary experience to assist you with any water loss issues. The friendly and professional staff at Scope Environmental will be happy to assist you with any related emergency you might be experiencing 24/7. Once you give our team the required information, we will be on our way to you immediately. 
While you wait for our team to arrive, make sure to turn off the water source. Doing so will stop more water from pouring into your house or property and alleviate pressure from the burst pipe. You should also open the tub faucets below the pipe burst, for this will stop the water from further spreading. 
Start the Clean-Up Process After a Pipe Burst Incident
Once the main water source has been turned off, our team will start the cleanup process by releasing all standing water on the property. This step is vital, for standing water can lead to serious mold damage and badly affect your floor and walls. 
It is true that the water from a burst pipe is clean, but it still has to be eliminated quickly. The goal here is to stop the spread of water and prevent it from causing additional damage. Although you can eliminate the water yourself, you should still call a clean-up and restoration team in order to completely and effectively remove all standing water with the right equipment.
The doors and windows must be opened in order to allow proper airflow and speed up the drying process. However, this is only advisable if it is not raining and it is actually dryer outside. 
Our cutting edge technology can thoroughly dry your home. It is vital to correctly dry your house in order to prevent mold or mildew damage. We use industrial-grade equipment to make sure that your house is completely dry before the restoration process is properly carried out. 
Some homeowners would assume that they can lift their carpeting. But you must only leave this job to the professionals. If you lift or remove the carpet on your own, you might cause further damage to your property. It is also not a good idea to repair the damaged pipe yourself. It could only cause further destruction to your house or injury to yourself. 
Call us in case of Pipes Burst
The sensible thing to do when a pipes burst in your house is to turn off the water source and call the specialists. This way you can prevent any crucial mistakes that could not only create more problems, but also invalidate your insurance claim. 
When it comes to water damage restoration service after a pipe burst, make sure to work with the best in town. Call us today at (888) 504-5525 so we can immediately send our staff. We cover Woodland Hills, Calabasas, Chatsworth, Malibu, Tarzana, Agoura, Canoga Park, and the general area.